Dental Caries
Caries is a bacterial infection caused by specific bacteria that are found in dental plaque. Dental caries is a process that depends on a lot of factors. Its characteristics are the returnable processes of demineralization and remineralization of teeth, until the moment when carious cavities are made.
Will it get to the irretrievable damage to the teeth depends on many factors, such as attack factors, defense factors, history of dental disease and the current general condition of the patient.
The attack factors of are: the level of bacteria and sugar in the mouth, and the defense factors are the amount of saliva and fluoride. Bacteria in dental deposits on undamaged teeth process available sugar. The most important bio product that occurs is lactic acid, which penetrates through the solid surfaces of teeth. Microscopically, surface of the tooth is still permeable, so lactic acid can remove calcium and phosphorous from the inner tissues making the tooth demineralized. The result is the caries damage of teeth.
In our clinic we apply modern standards caries treatment, and this means that the prevention and treatment implementaton are in equal proportion. We implement prevention before the disease occurs, and implement treatment after the appearing of the disease.
Every patient is thoroughly examined. We take his medical and dental history of the diseases, do the clinical examination, and analyze the condition of teeth with X-ray image. After that, individual therapy is determined by applying a medical model of caries treatment.
This treatment involves 4 steps:
1. Controlling bacteria by processing carious lesions and applying medication
2. Reducing the risk level of carious lesions reappearing
3. Re-mineralization of teeth
4. Long-term monitoring of patients, which includes regular check-ups on every 3 or 6 months, depending on risk factors.
We pay special attention to the minimum traumatic intervention in removing carious lesions, and in the pulp preservation, preservation of neuro-vascular system in tooth root and nerve, and to complete aesthetic restoration of dental tissue. We use high quality materials for dental fillings, which fully satisfy the aesthetics and function of the restored part of teeth.
CASES GALLERY
1.FIBERGLASS PEG AND COMPOSITE BONDING

Female patient, 24 year old, broke her tooth 1 day before her wedding. Within an hour and a half we made the fiberglass peg and composite crown restoration.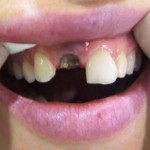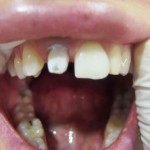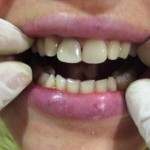 .
.
2. FIBERGLASS PEG AND COMPOSITE BONDING
On the treated tooth fiberglass peg and composite crown restoration were made.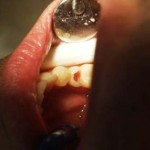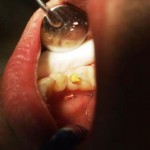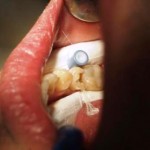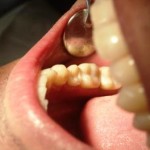 .
.
3. BONDING
Male patient, 23 years old, after tooth crown fracture due to injury conservative aesthetic restoration was made.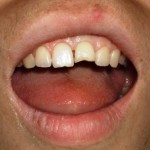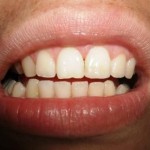 .
.
4. COMPOSITE BONDING
Male patient, 23 years old, after tooth crown fracture due to injury of the first upper left incisor composite bonding was made.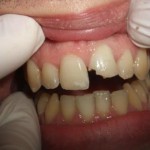 .
.
5. COMPOSITE VENEERS
Composite veneers, without grinding, ready in 45 minutes.