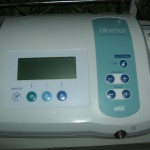 Piezo Surgery  is a young branch of surgery that has led to great progress in dentistry, easing work in surgery and providing greater comfort to patients . The effect of piezoelectric devices is based on piezoelectric and three-dimensional ultrasound microvibrations, without the use of rotary drills and cutters. It makes it completely non traumatic method of processing bone which results in much less post-operative swelling. Large selection of cutting extensions provides an opportunity for applications in implantology, oral surgery and periodontal surgery.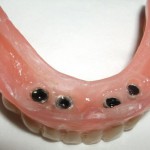 Patients in whom there was a total loss of teeth due to caries, periodontal disease or other diseases of the teeth and oral cavity, might have problem with denture  due to lack of jaw bone, especially in the lower jaw. Prosthetic rehabilitation (teeth replacement) can be done in two ways:
1. Complete denture
2. Conventional implants (implants of regular size) and placing fixed bridge on them
The first option is preferable in elderly patients, patients who have health problems as a contraindication to implants, or do not have enough bone for implants of regular size.
Loss of teeth in the lateral regions of the upper jaw often leads to resorption of the alveolar ridge and maxillary sinus volume increase at the expense of bone. It causes situation when bone segment height is not sufficient for implant insertion. In such cases, solution is a surgical method – sinus lift. It is intervention that includes raising the sinus floor with the installation of artificial bone to create a sufficient amount of bone necessary for implant insertion.
There are two methods of sinus lifts that we do in our clinic: Internal sinus lift and External sinus lift
After this procedure, patients are able to obtain fixed prosthetic work as a final solution and thus fully rehabilitate their teeth, with no mobile prosthesis.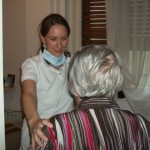 We provide home visits to patients who are bed-ridden or disabled.